Purchase now and we'll ship when it's available. Estimated in late November.
Description
Bracket Choices
Returns & Exchanges
Shipping
Purchase now and we'll ship when it's available. Estimated in late November.
Description
Bracket Choices
Returns & Exchanges
Shipping
Customer Reviews
09/14/2021
Marjorie L.

United States
I recommend this product
I am very hopeful, the only time he jumped up on it he was afraid and jumped back quickly!
Customer service was wonderful, I called a few times to get more info before I ordered! Very easy to install, most of it I did by myself, my husband hates projects! I had to make one shorter to complete the complete the install and it was very easy to cut with a hacksaw and insert one of the extra ends! It looks professional and I feel much more relaxed when I leave my big boy out to enjoy his yard! He's my big baby and before we had the rollers up a man approached the fence and Teddy was in full protect mode, he could have gotten over the fence if I had not been there! Now I feel HE is protected as well! I can't figure out how to attach a picture, is it ok if I send it separately?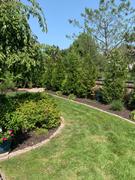 06/27/2021
Margie Y.

United States
Keeping the coyotes out and my dogs are loving the yard again
I LOVE this product and love the fact I do not need to worry about my dogs being in the back yard. They look great, work great, and installation was easy. (i installed on Wood, Block and chain link) I have already told my friends nnd they will be purchasing also - I would highly recommend this product.
06/15/2021
David H.

United States
I recommend this product
yes
Very good. Installation was relatively easy. I have several single rollers on stepped-down level sections of fence on an incline, and I underestimated total length by 4' so I need one more roller and 10 more brackets which I will now order online.
10/11/2020
Carlos P.

US
76 Foot fence project
I ordered the 76 foot DIY Fence Kit for installing on a recently installed chain link fence dog run area. We needed the rollers to keep our dog in, though initially we were worried about coyotes in the area. Our fence is 4 feet high so coyotes can easily jump over that, so the rollers are mainly to keep our dog in. We'll have to use other coyote deterrents. The rollers and hardware arrived in excellent shape and with all the required hardware. The installation videos from the website were helpful with tips to make the installation easier, especially the best way to cut the rollers. I invested in a non-ferrous miter saw blade for the project, and though pricey, was well worth the cost since the cuts were very clean and no clean up or filing of the ends were necessary. Installation was very straightforward without any issues. Overall, I'm very happy with the product.
11/12/2020
Rollers Direct
Thank you so much for your review! It will definitely help others save their pets lives!
10/01/2019
Bill T.

US
Oceanside CA
Quality product and easy to install. Customer services was spot on. Thank you.
01/29/2020
Rollers Direct
Thanks so much for your review! I'm glad you are pleased! Thanks for keeping your pet safe!