8 Foot Coyote Roller Gate Kit
Coyote Roller 8 Foot Kit

Includes:

2 Rollers
4 Brackets

 

(with hardware)
This popular DIY kit is great for gates, small fence sections or even as a sample for an HOA. It will cover 8 linear feet. Rollers can be cut down to size during installation to ensure exact fit.
The number of brackets included in this kit are suitable to install two rollers. Add on extra brackets and/or end caps if you plan on cutting the roller into several pieces.
BRACKET CHOICES

Select from 6 bracket styles

ROLLERS

Rollers ship in 4 foot lengths only.
They can be cut down to the size you need during installation.
End caps come pre-installed in each Roller.

END CAPS

Extra End Caps are used after a 4ft roller is cut into 2 or more usable pieces.
Rollers ship with end caps already installed into the end of each roller.
COLORS
Optional Powder-coated rollers and brackets. Available in Black, White, and Beige. (ask about custom colors). Powder coated items are cleaned, sandblasted, coated and baked to ensure a durable bond. Powder coated orders may take 1-2 weeks to ship. Please contact for current inventory and estimated ship times.
Customer Reviews
05/30/2021
Anonymous

United States
I recommend this product
Keeping Husky in
The website was really easy yo navigate and the order came within 2 weeks.We installed all the rollers ourselves and were surprised how fast it went. Our 3 year old husky tried for about 10 minutes to jump the fence but just rolled off. She hasn't tried again since. I recommend giving yourself a little more than 1/8th of an inch of space between the roller a bracket on wooden fences. We found that the wood shifts with the weather and we had to move a few brackets when the weather warmed up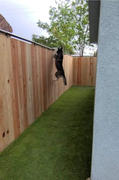 04/24/2021
Lee K.

United States
I recommend this product
Yes. We have never had a dog that could jump our fence before but Quincy, a two year old lab rescue, can do just that. We installed the coyote rollers and it instantly solved the issue. Quincy doesn't even rest his front paws on the rollers.
Excellent. All the product arrived and installation was quick and easy.
01/18/2021
John L.

US
The concept and execution of
The concept and execution of the coyote roller is great. However, cutting the tubing evenly is a bit of a chore. Also, since most towns regulations limit the height of a fence to 6'. I'm not certain how effective the rollers can be. Certainly good to keep dogs from escaping but for coyotes entering?
03/28/2021
Coyote Rollers Direct
Hi John Thanks for getting back to us. We have a thorough video that helps show multiple methods of cutting the Rollers so you can find the way that works most efficiently for you. You can find it here: https://youtu.be/D6mmfJWs7Uo?list=PLkpCvAdQ8ze25Z1_VRNmAZdjvK4qAqzd5 For your other note. We've not run into any town regulations about fence height but we have with HOAs. Since Rollers can be powder coated and look pleasing to the eye, most homeowners will show them our Sample Kit and we've never had one get turned down yet! Rollers only add about 2" of height to the top of a 6ft fence. In 10 years, (!10!) I've NEVER had someone tell me their pet was killed by a coyote getting in after installing rollers. NEVER. ;). They definitely work!